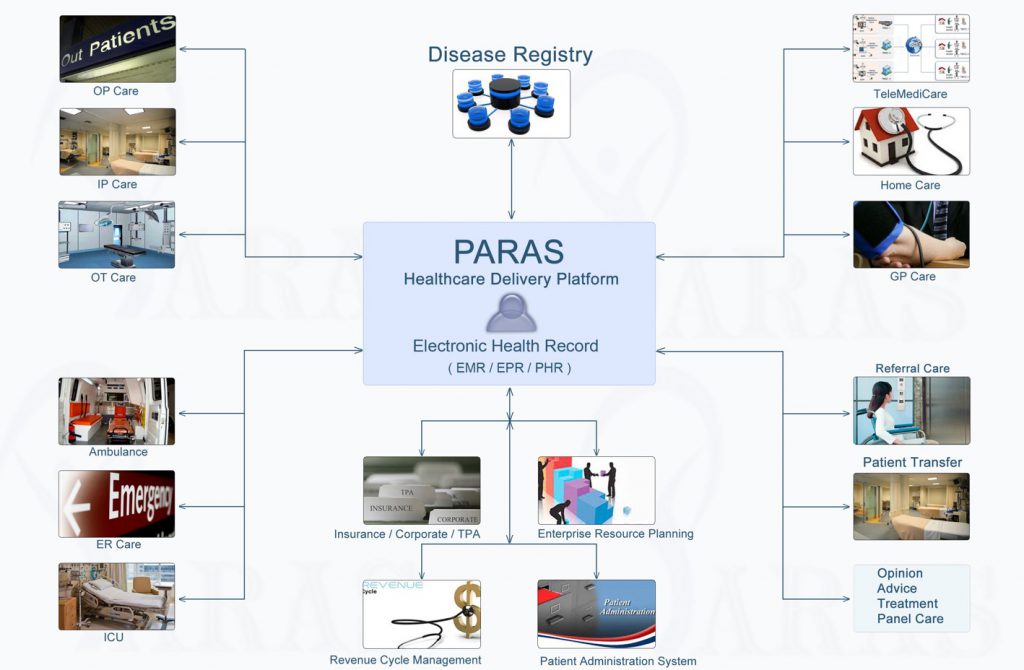 Toward a better patient care with PARAS
In the wake of widespread medical exigencies, hospitals, dispensaries, clinics and other healthcare setups are becoming more responsive. Apart from having a comprehensive functionality, they need a state-of-the-art digital support. PARAS is renowned for offering a rational set of services for its hospitals. With its constantly upgrading surveys, PARAS keeps updating its comprehensive data to offer best services in the industry. PARAS's IP care section assures a proactive functionality throughout its operations. With PARAS's responsive workflow, all the inpatients are taken utmost care of without any delays in the medicinal throughput.
When it comes to OP care, PARAS offers an all-inclusive repository to seamlessly and meticulously deal with a wide number of OP, types of OP, place of origin of OP and follow-ups. For both the hospital and patient clarity, PARAS also conducts disease survey in turn benefiting both patients and all the healthcare operators. With PARAS's viable OT care, all the essentials right from the pre-surgery requisites to the post-surgery directives can be managed effortlessly. With PARAS, emergency case handling and management has also become striated and absolutely free of hurdles. Emergency cases can be swiftly and safely handled thereby easing off the workload of both patients and doctors. Briefly, PARAS enables its clients to offer a service immediacy to both systematic patient outflows and unexpected patient inflows.
With PARAS, the Intensive Care Unit (ICU) becomes very priggish and full of clarity. With PARAS, all the abnormalities or health related dysfunctions can be brought to the notice of the attendant with immediate effect. PARAS also takes all the best measures for the segments such as Telemedicare and home care for the critical cases. The General Patient care or GP care at PARAS also leaves no stones unturned to offer a primal service to the patient inflows. Referral care and a hurdle free patient transfer are other beneficial additives with PARAS. Briefly, PARAS harmonizes a highly interactive flow to carry out all the hospital functions flawlessly.