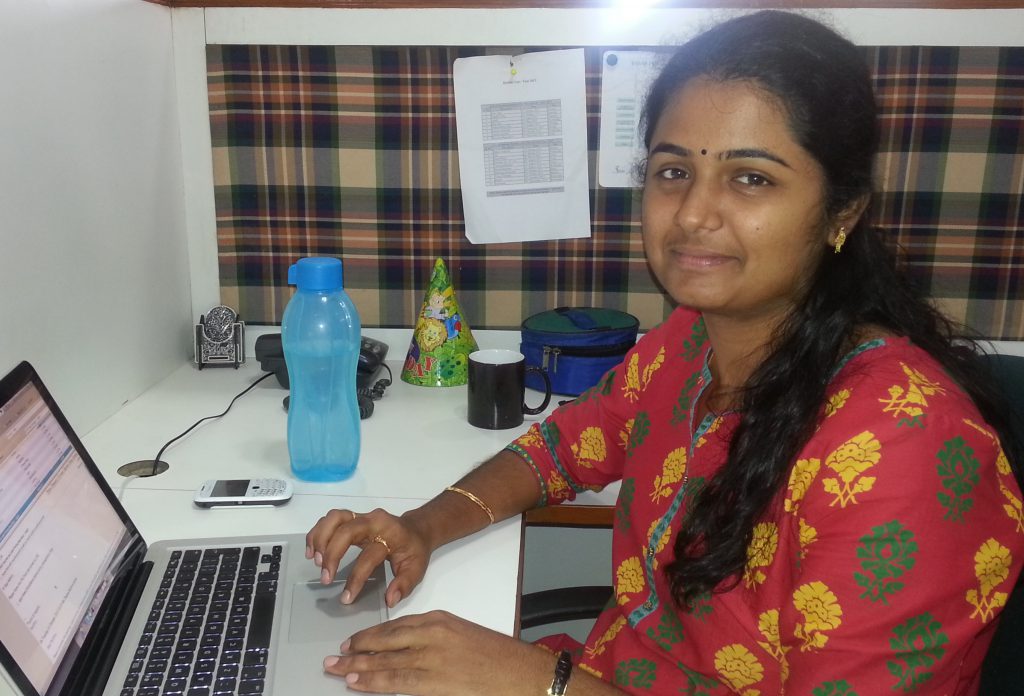 Employee speak – Ramya's dedication towards work and family life
Family plays a great role in everybody's life. From the time of birth till the time we leave this world, family stands as an indispensable element in one's life. It is the family that nurtures, inculcates values and shapes us to be a good human being. With the growing demands in career and personal life, employees find it very difficult to cope up with various aspects of life. But most of the quality time that needs to be spent is with family members. So how many of us are really good at balancing a good family life and work life is a big question?
Srishti being one of the most successful IT companies understands the value of family and friends. Hence Srishti prioritizes family needs as much as work needs. One of the many employees who have tremendously performed well while balancing family and personal life is Ramya. Ramya with her 6 years of experience in Srishti has never stood behind with her personal constraints. Her quality performance has always inspired many employees and her balance of work life and home life has been very impressive. With 4 years of successful married life and a 2-year-old cute kid to play with, Ramya has dedicated equal attention in handling both her official and personal work.
A brief: Ramya M – Technical lead
Ramya joined as a fresher for the position of software engineer trainee in the year 2007. She has always been the hardworking and most talented employee.  Her diligence and attitude towards work has inspired many employees.
Let us know the secrets behind her work-life balance.
How is Srishti helping you cope up with your personal and work life?
Both the employer and employee can benefit when an employer supports and helps an employee to bridge the gap between their personal and professional commitments. Srishti provides me with flexible time frame and I am able to manage both my personal as well as professional obligations. Srishti's flexible policies for women like work from home, cab facilities & flex work timings has motivated me to continue my work even after marriage and child.
How challenging is it to develop the product solution according to hospital's requirements?
The healthcare industry perhaps is the most challenging industry for IT solution implementation. PARAS provides complete integrated solutions and hence it is more challenging to maintain this integrity while incorporating hospital customization request. When ever we are adding new functionality to our product we have to consider the performance of the product. While incorporating the changes it is challenging to decide whether we have to act upon it as a product road map or to implement it with configuration.
How has Srishti helped you to grow in your career?
I joined Srishti as a fresher and now I have become a Team Leader managing a team of more than 15 members. This would not have been possible without good mentors and appropriate learning platform. Srishti has provided me with an opportunity to grow, by giving me all the freedom to experiment with new technological innovations in IT. My growth in Srishti is not only with respect to technical knowledge but a complete growth in leadership and management qualities.
As a team lead, how are you managing technical progress as well as team building?
Transition from a development team member to team lead has been a successful journey with lots of milestones in learning. Each team member has different capabilities and thought process, based on which a team leader has to read their mind set and provide adequate guidance so that there will be productive output. While assigning tasks, I have to take into consideration the career road map for their growth and provide adequate support.