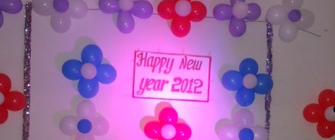 Year Wrap Party @ Srishti
Like every year, Srishti rang the New Year in style with a year wrap party, complete with cultural evening
and delicious food. The Christmas celebration at Srishti continued till the last working day of 2011 when employees were treated to a year wrap party. The excitement in office was palpable and colorfully decorated walls and cubes only added to the frenzy. As evening set in, everybody put their party shoes on and the fun began. The party kicked in with interesting games, lively music and then the stage was taken by storm by employees who clocked in magnificent dance/song performances which had the audience dancing within minutes.
Among the notables performances were 'Dancing Divas' who danced to a series of bollywood numbers and had everybody yelling 'Once More'. Another notable one was by David Raja, on Michael Jackson's 'dangerous' that had everybody in awe. The evening concluded with the prize for best dance/song performance, yummy food and a cheerful new year!
Happy New Year Guys!
The names of the winners are below:
Best Dancing
Winners – Dancing Divas – Divya Thakur, Sheeba I, Sonam, Sudarshana , Deepthi

Runner Up – Super Boyz – Raghavendra D, Keerthi KN, Sarath Gompa, Special appearance in the ending (Prashanth JV, Sanjay, Suresh Babu)
Best Singing
Winner- Ranjita Naik

Runner Up – Pushpavathi B A