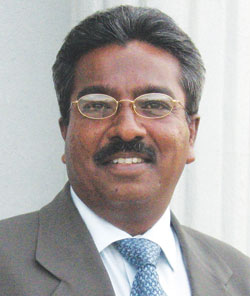 Healthcare Technology Trends: Industry Expectations for 2013
Publication: eHealth
Issued On: 9th January,2013
What were some of the key challenges that the Health IT sector faced in 2012?
It's been over two decades since proper adoption of information systems in Healthcare was urged upon. By computerizing health records, we can avoid dangerous medical mistakes, reduce costs and improve care. Despite the strong growth of the Indian Healthcare technology market over the past few years, the industry is plagued by low penetration. The challenge here lies in expanding the market. True that the Healthcare industry in India has shown a rapid growth, but majority of the demand has been coming from the Tier I cities, whereas Tier II and Tier III cities remain neglected owing mainly due to lack of affordability, accessibility, awareness and availability.
What changes you have noticed in healthcare in the year 2012 in areas like Health IT, Medical Equipment, Regulations, etc.?
The use of Information and communications technologies has been very instrumental to the concept of 'integrated care' and has the potential to enforce a remarkable transformation in the delivery of healthcare, making it safer, easier, effective and efficient. If implemented in the right way, these IT systems possess mechanisms to reduce administrative and clerical work, thereby sparing more time for patient care, lowering down defect-rate and at the same time raising levels in storage and transmission of data. Also the usage of the back office system such as Human resources, Supply Chain Management & integrating your financial workflows through the Healthcare IT Solution benefitted the hospitals in stopping revenue and inventory leakages. Having them integrated with the other modules of HMIS adds a tremendous value to the healthcare delivery system. One more aspect, which was noticeable, was automating the entire work processes across multiple chain of hospitals spread across geographies. Hospitals found new way to manage and streamline processes between their HQ and the branches adding huge amount of business and operational benefits.
What are some key areas in Indian healthcare where your company is likely to play a big role in 2013?
The industry is experiencing a major shift in its trend- the healthcare industry is undergoing automation; and, in this critical juncture, Srishti has a lot to contribute. We are working towards attaining unmatched efficiency in our 'Integration engine' and 'Enterprise Service Bus' which are used to communicate with third party software. This efficiency once attained, will ensure seamless integration with any third party software. We are working on various advancements and futuristic technologies that will help us to have the cutting edge over our competitors. We are focused on developing models that will contribute towards improving the quality of healthcare offered to patients. Our Enterprise Multi-Location solution has added tremendous value to chain of hospitals, which focuses on corporate governance, standardization of care, audits & controls, process standardization as well as quality of outcomes.
Please tell us about some new and innovative solutions/technologies that you are planning to introduce in 2013?
With many of the healthcare providers expanding themselves into a healthcare chain the focus will be on innovating solutions that enhance the functioning of a hospital at multiple sites, yet controlled centrally. The next big thing to watch out for will be the, hospitals shifting to cloud based architecture. This architecture enables centralized management of multiple locations. Additionally, in an age where the world is embracing mobility like never before, Srishti has been able to deliver a product, PARAS which has carved a niche place for itself in the market that is easily installed in tablets, smartphones or handheld devices.
What are the top technologies in healthcare that will play crucial role in the year 2013 and beyond?
In the coming days, we will see a remarkable advancement in the way images are stored in PACS. Holographic storage and retrieval technologies will define the future of PACS. The key advantage of this is that the amount of data that can be stored is exponentially higher than any existing storage mechanisms currently being used. In addition to this Srishti is striving towards enhancing the transformation of hospitals to private cloud based architecture. Security of Patient Data will be of utmost importance. PARAS EMR is HIPPA compliant to protect the security, privacy and confidentiality of sensitive data. When hosted on a cloud server, it is also compatible with stringent audit control of the cloud platform. PARAS being one such product, it can be easily installed in tablets and handhelds will make healthcare mobile and accessible to all.
Are there some key policy changes or regulations that you are looking for in 2013? Please specify.
With endless positives and benefits of Medical IT, the present, seems to be the right time to devise a National Health Information Technology policy, which would result in standardized adoption and use of the Healthcare Information Technology across the country. However, sadly, Healthcare IT does not play a major role in the road map in the Indian Healthcare policy. Few expectations from the Government would be:
Standardized Healthcare IT implementation policy.

Provisioning of required infrastructure.

Planned architecture for data transmission and integrity that would enable seamless flow of information.

Tax benefits/ reimbursement schemes/ Incentives for usage of ICT in Healthcare e.g. replacing conventional films with digital storage in medical imaging which has great environmental benefits

Creating awareness among the health personnel.