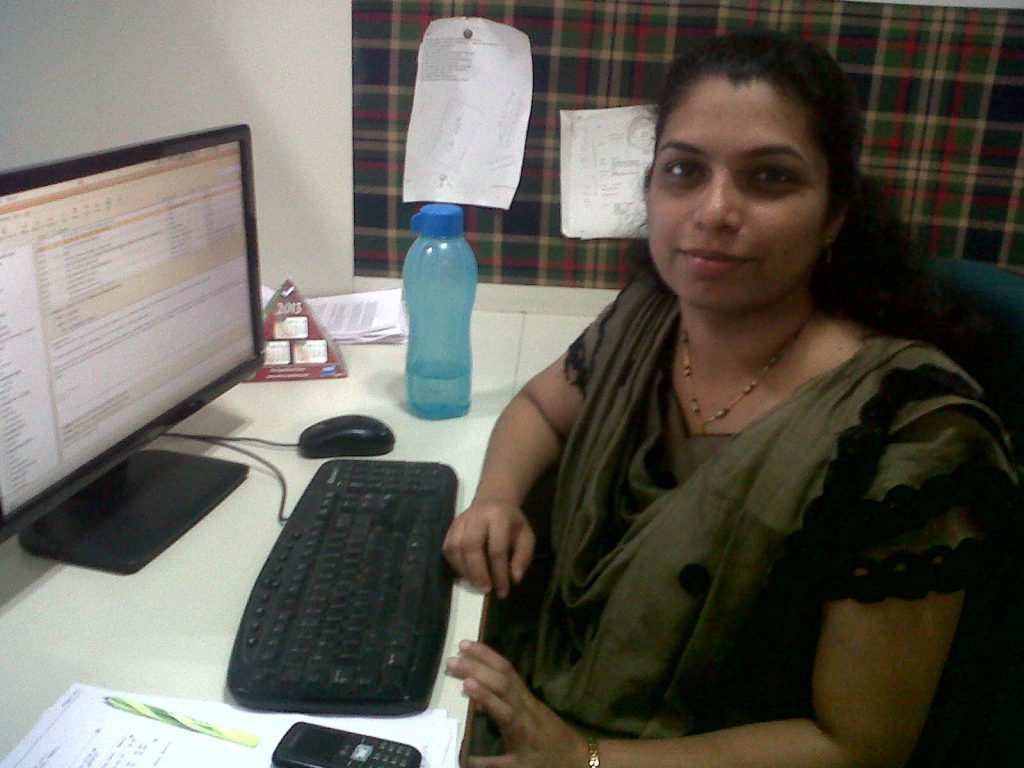 Employee speak – Suhana jiggles professional and personal life with finesse…
It is said that woman are good at multi tasking. They employ their prodigious skills to achieve greater heights in both personal and professional life. They are adept planners (right from handling office chores to changing the nappy!). They have a high sense of quality (just the right amount of salt and right output). They have a high sense of ownership . Srishti, has always believed in providing platform for all genders. But Srishti believing and supporting women empowerment, has always looked forward to provide opportunities for women in enhancing their career life while balancing their personal life.
Suhana has been one great example of women power at Srishti. An employee who loves to solve problems and a damn good multi tasker. Suhana being the technical head of Srishti software handles store and pharmacy team. Suhana handles multiple pressures and tasks with aplomb. With twin babies seeking attention at the nest, Suhana is an active mother, solid professional and fine human being.
Brief about Suhana,
Suhana joined Srishti as a software engineer trainee in the year 2006. With her mix of wit and wisdom she was able to drive her career and personal goals. Her passion towards work and her dedication has inspired many employees. Let us know the secret behind her success

1.What preparation you make while setting the system alive?
A system going Live to client place requires lot of efforts from all team members. From technical aspect after QA validation we concentrate on complete debugging and make sure that all critical issues are rectified. I guide my team members for progress in master data migration and Stock migration. Before moving to client side, default data is cross verified. As a part of team management, I have to make sure the availability of resource through out 24/7 for first few days of going live.
2.How are you able to balance work and family life?
I have been associated with Srishti since past 7 years during which there has been personal as well as professional changes in my life. My family additions with my twin children and professional addition of managing complete Team as a team lead came as a big leap at the same time. These responsibilities I have been able to manage and lead with help of flexible work timings in Srishti. Due to flexible options of work from home I was able to work with my family life along with office in case of any emergencies. My team members have also supported me by accepting my guidance through phone calls while they were fixing any critical issue.
3.What are challenges you face while managing store and pharmacy modules?
Supply Chain Management is a major segment in Hospital Information Management System. It has integration with Patient Administrative Module as well as with Finance. PARAS is an integrated solution where all transactions are update at real time basis.  This makes the product creation, maintenance and updation a critical challenge. While customizing any particular aspect of Supply Chain Management I had to analyse it with respect to all the associated finance and patient flow impacts. The functionality of Materials and Purchase module had to be created with enough scope of front end configuration options for users to adapt the product as per their hospital flow.
4.How has srishti helped you grow your career life?
My professional career span of 7 years with Srishti has seen me playing varied roles and responsibilities. When I joined as fresher I had great opportunity to learn from my knowledgeable Technical Leads. They provided me platform to think and analyze the requirements. Taking up responsibilities of a team leader came to me suddenly, to which I was able to do justice only because of the guidance of seniors and confidence that Srishti placed on me. While leading a team I had to become a motivator and guide my team members in addition to updating technical knowledge to answer their queries.